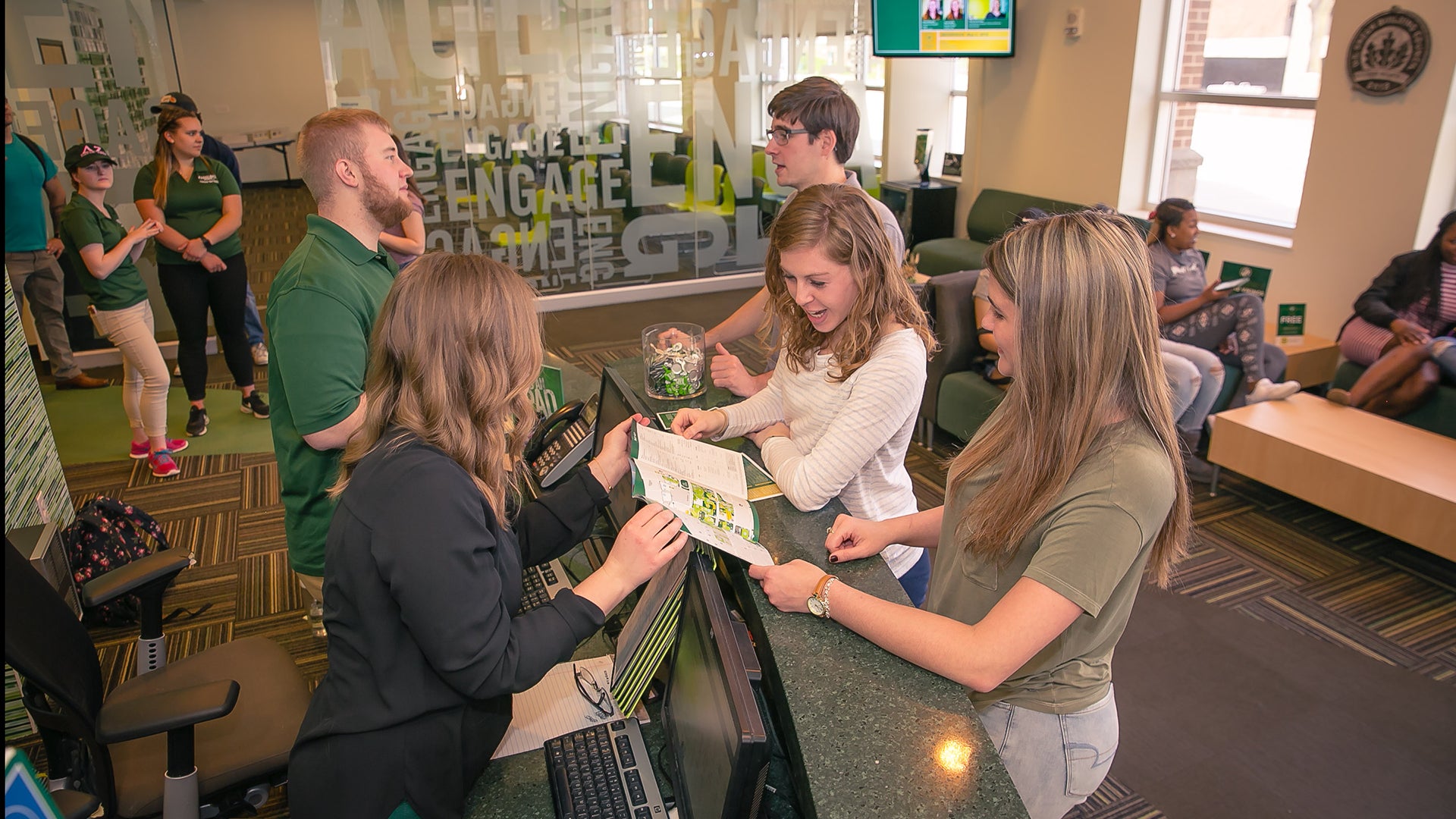 VISIT CSU
Visiting our campus is the best way to learn about our top-rated academic programs and renewable scholarships. Student-led campus tours include stops at our amazing residence halls (with private bathrooms) and the Recreation Center. You can also meet with an admissions counselor one-on-one to get answers to your questions.
Weekdays: Monday, Wednesday and Friday (10 a.m. & 2 p.m.) and Tuesday/Thursday (10 a.m.)
Weekends: 1st and 3rd Saturdays (10 a.m.), except holiday weekends and certain University events
Transfer Tuesdays
Transfer Tuesdays offer an information session and tour geared to the interests of prospective transfer students. Join us the 2nd or 3rd Tuesday of each month at 12 p.m.
Registration is required for all campus visits — call 216.523.7416.
Group Tours
Group visits are designed for groups of 15 or more students visiting together through high schools, college-preparation programs, outreach programs and similar organizations. The visit begins with an information session that highlights city and campus life, engaged learning, academics, student life, scholarships, financial aid, how to apply and more — through video modules featuring CSU students, professors and parents. Following the information session, your group will go on a one-hour campus tour, experiencing campus sites — such as the Recreation Center, the Inner Link system, academic spaces and the Student Center — while learning about CSU from current students. 
 
SCHEDULING A GROUP VISIT

Group visits are offered most weekdays (Monday through Friday) at 12pm. Students in grades 7 and higher are permitted. Please note that high school groups have priority over younger student groups.
Visits must be scheduled at least two weeks in advance. We will do our best to work with your group's requests. However, due to holidays and university events, some dates may not be available.
We can accommodate up to 80 students plus chaperones on a group visit. One chaperone must be provided for every 15 students.
Final visit details, parking instructions and a campus map will be provided via email one week prior to your visit.

SPECIAL REQUESTS

We may be able to accommodate groups larger than 80 (if requested in advance).
Please indicate if your group has students or visitors requiring special accommodations.
If your group plans to enjoy lunch on our campus, please let us know so that we may plan accordingly. All visiting groups can receive a 20% off campus dining coupon for the day of their visit.
 

REQUIREMENTS

Please be on time for your visit. Otherwise, we cannot ensure that your group will experience all that CSU offers our visitors.
Chaperones must stay with students at all times.
Please dress appropriately, keeping in mind there will be extensive walking as well as periods of time spent outside during the campus tour.
Students and visitors are to be respectful of admissions staff and student tour guides, as well as mindful of CSU students who are living and learning on our campus. Groups who do not comply with these requests will be subject to review at the time of any future visit requests.

Questions? Call the Welcome Center at 216.523.7416.
 
Check it Out
CSU Campus Video Tour